THE PROBLEM
STRESS. 
There are so many aspects to planning and managing an event, and since much is at stake for everyone involved, the stress level for Meeting Planners (MPs) is incredibly high.  In fact, for the past several years, "Meeting Planner" has been rated as one of the 10 most stressful jobs in the United States. For 2016, Business News Daily reports that Meeting Planner's ranking is #5 alongside jobs that put "lives on the line each day", such as Enlisted Military Personnel, Firefighters and Police Officers.*  Wow.  The stress is due to several criteria; the tremendous amount of details and extreme expectations for perfection are at the top of the list.
A most impactful portion of any event is AV, and for most MPs this is also the most stressful.  Most events require 20+% of an MP's time (8+ hours per week) dedicated to AV alone; this doesn't include researching the latest trends in technology and equipment, both of which are expected by participants in today's world.  For most MPs, the time to specialize in or really learn AV doesn't exist, leading to very high stress with very high expectations.
$10,000
In May 2015, the Bureau of Labor Statistics reported that the annual wage for a Meeting Planner that year averaged between $46,840 or $22.52/hour to $82,050 or $39.45/hour .**  By the numbers, here's how $10,000 factors in to this:
(click to enlarge)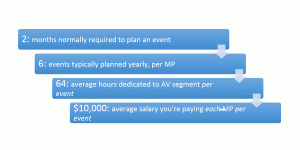 For an MP with little or out-of-date AV knowledge, the time and amounts rise.  PLUS, if you have 4 MPs on staff, you're paying enough to hire on another MP!
THE SOLUTION.
O'Design Productions and Consulting removes the stress and saves you money on the AV portion of your events, giving time back to your MPs to focus on other critical event details.  As your meeting-planning partner, we handle all AV logistics seamlessly.
Our elite team has managed 1000+ events with up-to-the-minute technology and equipment.  Additionally, we "up the WOW factor" for special events by providing custom event apps, digital signage, touch screen monitors, audience response systems, powerful stage design and so much more, based entirely on your needs.
Have questions or would like dedicated one-on-one support?
Contact us:
Call (business hours) or Text 24/7: 303-877-9275
Email: hereforyou@odesignpc.com.
Contact us for any reason, you have our full attention!